XCALLY is an innovative Omni Channel software that integrates Asterisk™ with the Shuttle and Motion technologies, developed in the Xenialab research center in Italy.
XCALLY is currently used in over 60 countries, thanks to its powerful tools and features like Omnichannel modules, IVR system, Contact management, Outbound predictive dialer, Scripting tool, Realtime monitoring, Analytics and reporting, Internal messenger, 3rd-party apps integrations.
One contact center software and endless channels
The key to an effective customer service is focusing on the channels where your customers are. Know your customers and let them interact with you across their favorite channels!
In addition to the already available XCALLY modules – Voice, Web Chat, Email, FAX, SMS – you can add as many channels as you need in just few steps, thanks to the powerful Open Channel tool.
Your Agents will be able to easily manage all the interactions, coming from several channels, inside a single Omnichannel Desktop interface. They can get also the Contact details and the Customer Journey.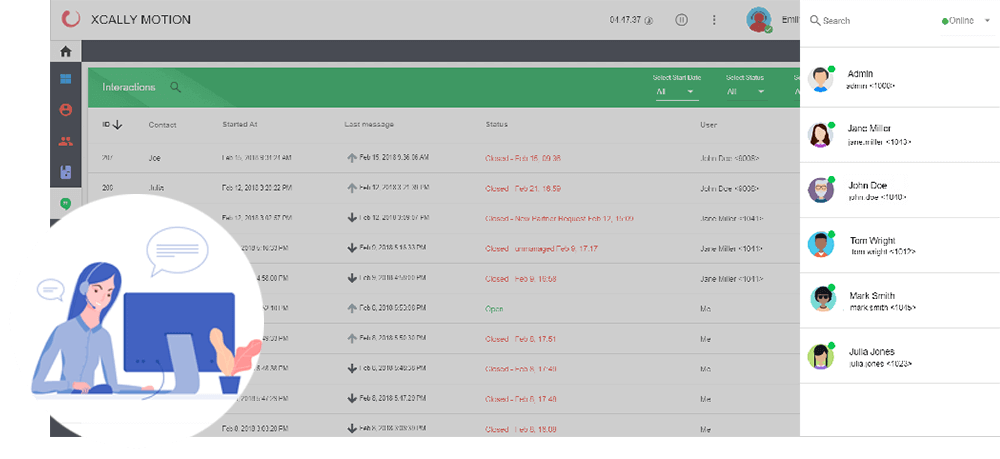 Great Agent Experience
XCally's agent interaface is very intuitive and there is no need to spend a lot of time for training! The web interface lets your supervisors and agents to quickly learn how to use XCALLY, so they can focus on what really matters: customer satisfaction!
With everything under control
The realtime panels and dashboards, that can be customized, allow supervisors to monitor agents performance and make dynamic changes when needed. Supervisors can also perform call monitoring and recording services for quality assurance purpose.