A MEETING PLATFORM AS A SOLUTION FOR DISTANCE
In case you are wondering yes, this is yet another article about an online videoconferencing and meeting platform but believe me, it's worth a read.  When there is crisis, it's good to know what is the good people doing out there and the history behind this solution it's kind of interesting.
WHY LINKEDIP MEET
As employees of many organizations have been forced to transition to go from a desk in a branch office to a remote work because of the impact of COVID-19, new and effective communication tools are required to allow teams to keep engaged.
At LinkedIP we are conscious about our commitment not only to our customers but to the communities and the country.  That is the reason a cost free video conferencing platform has been released to provide conferencing and collaboration for free to individuals, families and organizations.
But these days group communications are not only required by employees.  One critical aspect that we at LinkedIP found it was the fact that our senior parents were getting very anxsious in their lockdowns.  You may agree that senior citizens are not very handy with downloading apps or installing applications on their computers and the fact they were having troubles tyring to install 3rd party software without success was actually contributing to their frustation.  This is where we thought we could contribute to the problem by enabling a platform that did not require nothing to download and install.   In 100% of the cases of the senior citizens where we invited to try LinkedIP Meet we observed zero frustration and great acceptance of the tool.   This motivated us to put this out there for free; the people was needing something like this desperately.
Almost over 60 days after the pandemia forced us to stay home, we have received testimonials on how LinkedIP Meet is being used widely as a team meeting tool in businesses but we also are happy to hear the tool is being used in schools, bible studies, praying groups and family meetings.
ABOUT LINKEDIP MEET
LinkedIP is web based, secure, encrypted and HIPAA compliant meeting platform.   It uses a protocol called WebRTC and that means basically 2 things:
Communications are 100% encrypted, and
It just needs a WebRTC friendly web browser (such as Google Chrome, Firefox or Edge)
LinkedIP features also very nice features such as:
Limitless meetings
HD Audio
HD Video with a Grid View for all participants
Screen Sharing
Live Chat with emojis
Live Video sharing from YouTube
Live Streaming of the meeting
Local audio recording
LinkedIP Meet is good for meetings up to with 50 participants and meetings have no limit on the duration.  This solution is good to communicate more efficently and to share projects or ideas.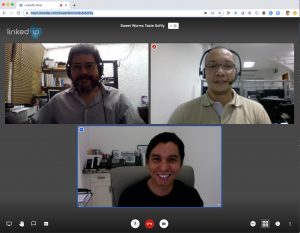 HOW TO USE LINKEDIP MEET?
To use LinkedIP Meet simply go to https://meet.linkedip.com and follow the instructions but the procedure is pretty simple.
1. BROWSE TO LINKEDIP MEET WEBSITE
Click here or simply type in your browser this address: https://meet.linkedip.com/
2. CREATE A MEETING ROOM
There are two ways of creating meeting rooms.  Accept the suggestion of the name of your room or simply type in a desired name for your conference room.   For example you could type something like "Acme-Weekly-Meeting".  When you are ready click on GO.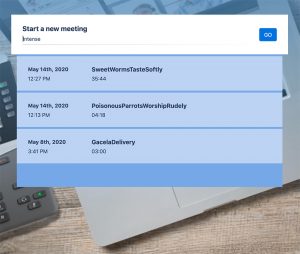 3. ALLOW YOUR DEVICES TO BE USED BY THE WEBSITE
It's important that you say Yes when you are prompted if you want to allow the platform to allow access to your camera and microphone.
4. IDENTIFY PLATFORM CONTROLS
Take a look to the bottom of the screen.  You will find some icons.  To the left you will see icons that include share screen, raise hand, the chat and the closed captions features. In the middle you will find the actual communication controls for the microcphone and your camera.  To the right you will see session settings like the view settings and the room information.

5. SHARE YOUR MEETING ROOM
Pay attention to the URL on the web browser navigation bar; that is the URL for your meeting.  Or you can also click on the setting icon and copy the room URL.

6. ENJOY YOUR MEETING
Simply enjoy your meeting with your team.
CONCLUSION
If you know individuals, families or organizations looking for online meeting solutions we encourage you to tell our story and share this article.
We also have a commercial solution with more advanced features in case you are wondering.  To know more about our commercial solution please visit us at https://onlinemeetings.linkedip.com/